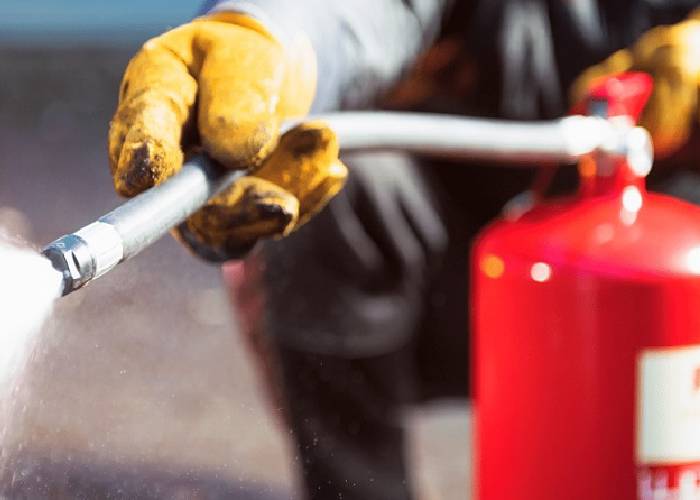 The U.S. Fire Administration reports that fires kill more than 4,000 Americans each year and approximately injure 20,000 more. U.S. fire departments respond to nearly 2 million fires each year, with three-quarters of them occurring in residences.
Lifestore Insurance suggests that spending a few minutes each month following these simple steps could help save your loved ones!
1) Smoke Alarms – Smoke alarms are widely available and inexpensive. They probably save more lives in the United States than any other fire safety practice. You should install a smoke alarm on every level of your home. Don't forget to test it monthly!
2) Prevent Electrical Fires – In the rush of doing things, it is easy to overload circuits or extension cords. YOU DON"T WANT TO DO THIS! Why? Because an overloaded circuit is a dangerous circuit and can cause overheating and the start of a fire within minutes.
Also, cords and wires should never be placed under rugs or in high traffic areas. Avoid loose electrical connections by checking the fit of the plug in the wall outlet.
3) Unplug all appliances when not in use. This can seem silly to have to do (as one friend told me)…but if you get in the practice of doing it, it is not so hard. AND, by doing it, you know that you are preventing even the possibility of something going wrong with that specific appliance when you're not around. Remove all doubt and DO IT.
Always follow the manufacturer's safety precautions and if a plug is overheating, smells strange, shorts out or sparks – should shut it off immediately and either replace or repair it.
4) Alternate Heaters – These can be especially deadly if not used correctly. The biggest safety tip with alternate heaters is to make sure that there is ALWAYS ample space around any portable heating unit (at least 3 feet) and that anything that could catch fire has been removed from the immediate vicinity of the heater. MONITOR THESE CLOSELY, especially if children are in the vicinity!
5) Create An Escape Route – So important. By taking a few minutes to do this, and annually reviewing it with everyone in your home, you could save everything that is truly important to you. It's not hard to do…it's just a matter of doing it. Simply create and practice an escape plan from every room in the house. Then review it and practice it with your family. It's just like a routine school fire drill – but in your home.
6) Clean Dryer Vents – Clothes dryers often start fires in residential areas. Clean the lint filter every time you start a load of clothes to dry or after the drying cycle is complete. Make sure your exhaust duct is made of metal tubing and not plastic or foil. Clean the exhaust duct with a good quality dryer vent brush to prevent blockage & check for lint build up behind the dryer at least twice a year.
None of these tips take very long to complete. But, by following them, you could have a lifetime of thankfulness!